Usage Log
Clearing the Usage Log
If your system is used often, the Usage Log may get large and cluttered. You can clear the log in order to get rid of some of this clutter. In case you don't want to lose all the information in the log, you can elect to save the current log as a comma separated value file (CSV) into an archive. Archived logs can be viewed if necessary.
1. In order to clear the Usage Log, you must be logged in as a User with permissions to View Usage.
2. From the Laboratory Home Page, scroll to the Lab Tools section near the bottom of the page. Select the Usage Statistics link.
3. From the Usage Statistics Page, select the delete icon link

next to the Summary of Usage heading.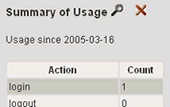 4. You will be given the option to just clear the log, or to save the current log to a file and then clearing the log. The file will be saved as a comma separated value (CSV) file. Make your selection and select the Submit button.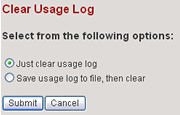 5. You will be redirected back to the View Database Usage Statistics Page. Note that the counts for all actions have been reset to 0. Also note that the start date of the Usage Log has changed to the current date (see "Usage since <date>" under the Summary of Usage heading)
6. If you selected to save the log file before clearing it, you can view the saved file by selecting the Archived usage log files link under the Summary of Usage table. This will take you to the Usage Archives page. Under the Saved Usage Logs section, find the date range you want to view usage for and select the view icon link

to bring up the CSV file.
You can delete any archived usage log file by selecting the delete icon link