CELO Home Page
The CELO Home Page is the portal to your organization's CELO system. It contains information about the system and important links for using the system. Get the web address to your organization's CELO Home Page from your organization's System Administrator.
Every organization can modify what the CELO Home Page looks like and the content that is contains. Here we describe some of the components of the default version. If your CELO Home Page is different, ask your System Administrator for the specific details of your organization's custom version.
The default Home Page displays a menu similar to the following. Each menu item is described below: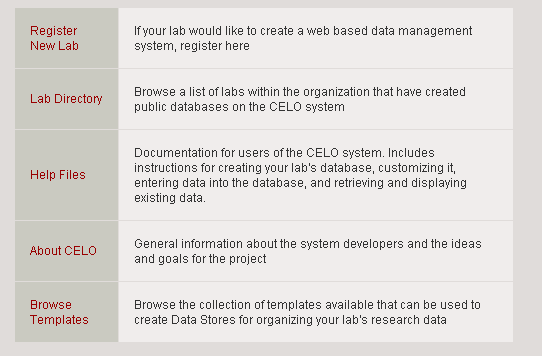 1. The Register New Lab link will bring you to the registration form for creating a new data management system for your laboratory.
2. The Lab Directory link directs you to a page listing the names and descriptions of the CELO laboratory systems created in your oranization. It includes direct links to the Laboratory Home web page for each of these systems. Laboratories may select to not be included in this directory during registration.
3. The Help Files link brings you to these Help Files.
4. The About CELO link displays a short description of the CELO system: its motivation and goals
5. The Browse Templates link allows you to browse the existing templates available for your organization.