Display Settings
Editing Display Settings
1. In order to edit the web page display settings, you must be logged in as a User with permissions to View Display Settings.
2. From the Laboratory Home Page, scroll down to the Lab Tools section. Select the Lab Web Display Settings link. If you do not see this section or this link, you probably do not have permissions to edit the display settings. Contact your laboratory administrator if you think this is an error.
3. You will be directed to a page with a menu for modifying different settings. Select the appropriate link, make your modifications, and select the Update button. For more details about the different settings, see the default settings help page.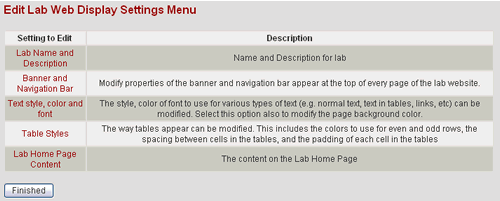 4. When you are finished making all your modifications, select the Finished button to return to the Laboratory Home Page. You may need to refresh your browser in order for the display setting changes to take effect.